Every time we travel along Minnesota's North Shore of Lake Superior, I am reminded of how beautiful it is. This was our first trip in the Spring, and I really enjoyed photographing the rivers full with snow runoff. It was also very cool to see some remnants of ice from this winter.
This week's Fine Art Photo of the Week is an HDR image of part of the gorge that the Temperance River cuts through the earth on its way to Lake Superior. I was struck by the sunlight hitting the icicle as the water rushed in shadow below. Since cameras cannot capture the range of light that our eyes can see, I knew that I would have to take multiple exposures of the scene and combine it in Photoshop to recapture what I saw (7 stops difference between the sun on the icicle and the shadowy water below).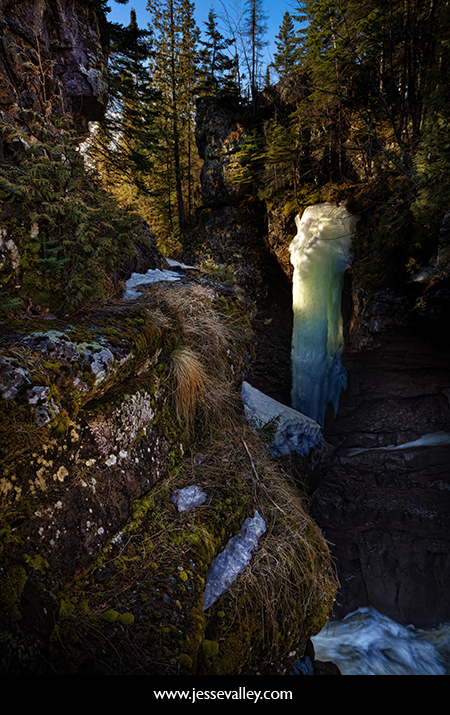 Those of you who know me well realize I am not much of a morning person. But the crisp air and beautiful sunrise of the first morning certainly woke me up! We stayed in Tofte, MN, so the Temperance River was close by. The first picture shows a great old tree leaning over the river, and the following pictures are along the shore where the river meets Lake Superior.

These last bonus images are of some falls along the Cascade River (top) and of Caribou Falls (middle and bottom). You can't really see the rainbow that was produced at the bottom of Caribou Falls, so I zoomed in on it for the last picture.